Guardian Angel in Rochester, Michigan, reflects Mt. Elliott's growing commitment to the greater Detroit community.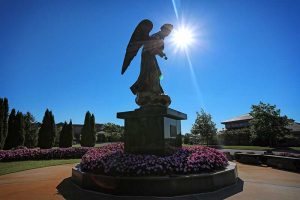 The Association's trademark landscaping and dignified entryway welcome visitors to its park-like setting. Just beyond the entry is a monumental bronze sculpture of the namesake guardian angel. It's interesting to note that the artist's model for this imposing sculpture was blessed by Pope John Paul II in 2004. Guardian Angel's expansive grounds are enhanced with flowers and trees throughout.
For those who prefer an alternative to ground burial, Guardian Angel Cemetery offers one of the finest indoor, climate-controlled mausoleums that can be found anywhere. Angel of Peace Mausoleum balances a contemporary feel with a timeless architecture style. The building's interior creates a majestic sense of space, enhanced by rich marble finishes and a colossal bronze sculpture. Natural light streams through a skylight that runs continuously over the main corridor on the second level.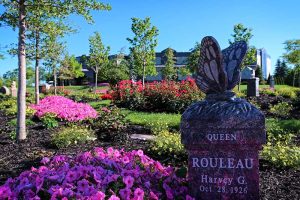 Other special sections at Guardian Angel include the Cremation and Meditation Garden, which includes the ability to select or customize a cremation memorial, and the Orthodox Section, which honors and traditions of those individuals and families of Orthodox faith, such as all graves facing east.
Guardian Angel Cemetery hosts numerous community events throughout the year. These include Memorial Day, Christmas events, Wreaths Across America, a Children's Remembrance event, open houses, preplanning seminars and other educational programs.
We believe that offering these programs are important responsibilities and reflect our unwavering commitment to the families we serve… to honor the memory of your loved ones, to protect family heritage and to help you bring closure in a place that will be forever beautiful.
Contact us at (248) 601-2900 for more information
or fill out the info request form here.
Contact Us for More Information
Want more information on cremation, mausoleums or ground burial? Send us an e-request for information and we'll reach out to you to answer any questions you may have.
LOCATION
4701 N. Rochester Rd.
Rochester, MI 48306
(248) 601-2900
Directions
Grounds map (PDF)
VISITATION HOURS
Daylight Savings Time                     
7 a.m.– 7 p.m. Daily  (Spring/Summer/Early Fall)
Standard Time                                   
7 a.m.– 5 p.m. Daily                 
(Late Fall/Winter)
OFFICE HOURS
8:45 a.m. – 4:30 p.m., Monday–Friday
8:45 a.m. – 2:30 p.m., Saturday
CLOSED, Sundays and Holidays
Upcoming Events
Seasons of Remembrance
Tuesday, December 5
6:30 p.m.

 Wreaths Across America
Saturday, December 16
12 noon
November Incentive for Guardian Angel Cemetery
10% off preplanning
Call (248) 601-2900 to speak with a family service counselor or fill out the info request form here.
*Expires November 30, 2023. Cannot be combined with other offers or used for previous purchases. Some restrictions apply. Preplanning only.