Resurrection Cemetery in Clinton Township, is considered by many to be the finest cemetery in Michigan. With nearly 300 acres, Resurrection is also one of the state's largest.
Resurrection Cemetery has been featured in local and national media for its careful development, for its commitment to providing a wide variety of choices for individual and family memorials, and for the community programs and events we host. We serve all Christian faiths.
Interment options at Resurrection include traditional ground burial, as well as a variety of mausoleums that are located throughout the property for both crypt and cremation interment. The Prince of Peace Cremation Garden opened in 2017 with a wide range of cremation memorials, cremation benches and niche options for families. In 2022, the Mausoleum of the Saints Cremation Garden opened with more than 1,750 niches for those who wish to be cremated.
There are a number of enclosed, climate-controlled mausoleums that provide exceptional comfort for visiting family members while other mausoleums feature covered walkways and integrate open courtyards and gardens to create a naturally beautiful environment. The Garden of the Ascension Mausoleum, that opened in 2013, is one such "outdoor" mausoleum. Private family mausoleums are also available.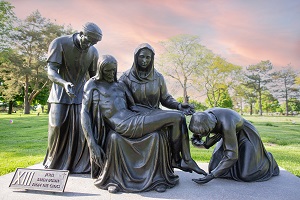 Another remarkable feature of Resurrection Cemetery is the specially commissioned artwork that can be found throughout the grounds and mausoleums. These include heroic-sized, bronze Stations of the Cross sculptures in section 21, and monumental bronze castings of religious figures found in some mausoleums. We hope your visit to the Resurrection will include a look at these impressive works.
Resurrection Cemetery invites the entire community to a variety of events we host throughout the year such as Veterans Day and Memorial Day services, a Christmas Remembrance event, a touching Children's Remembrance service, planning seminars and occasional exhibitions such as the traveling Vietnam Veterans Memorial.
Cremation Gardens

Mausoleum of the Saints Cremation Garden
Opened in 2022, this unique cremation garden features a large contemporary bronze sculpture of the Holy Family atop the columbarium, and there are more than 1,750 burial spaces available. This new Cremation Garden's splendor will grow as time goes on.
Prince of Peace Cremation Garden
Surrounding the Prince of Peace Crematorium in the center of Resurrection Cemetery, the Prince of Peace Cremation Garden covers one acre of manicured gardens and a lush carpet of green grass with winding walking paths. It offers nearly 150 cremation memorials, including boulders, pillars and benches, and over 350 blue pearl granite niches.
Contact us at (586) 286-9020 for more information
or fill out the info request form here.
Contact Us for More Information
Want more information on cremation, mausoleums or ground burial? Send us an e-request for information and we'll reach out to you to answer any questions you may have.
LOCATION
18201 Clinton River Rd.
Clinton Twp., MI 48038-2903
(586) 286-9020
Directions
Grounds map (PDF)
VISITATION HOURS
Daylight Savings Time                         
7 a.m.– 7 p.m. Daily  (Spring/Summer/Early Fall)
Standard Time
7 a.m.– 5 p.m. Daily
(Late Fall/Winter)
OFFICE HOURS
9 a.m. – 4:30 p.m. Monday–Friday
9 a.m. – 4 p.m. Saturday
CLOSED on Sundays and Holidays
Want to learn more about our Grief Share program? We host our Grief Share program at the Clinton Township Senior Center throughout the year. Call us at 586-286-9020 for more information.
Prices Increase October 1
Preplanning is a selfless gift you can give your family. If you've ever thought about preplanning, now is the time! Learn about current promotions and incentives at Resurrection Cemetery.
View Available Properties at Resurrection
View available properties and sections that you may want to consider at Resurrection
Get the eBook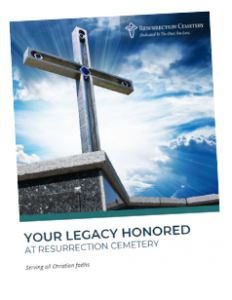 We've prepared a digital guide for you to see in rich color, all of the wonderful features and benefits of Resurrection Cemetery, one of the largest and most beautiful cemeteries in Michigan.
Preplanning Seminars
Thursday,  October 12
6:00 p.m.
Fern Hill Golf Club