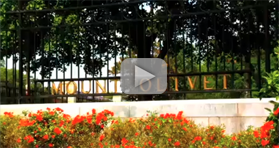 Since 1888 Mt. Olivet Cemetery has been a comforting and stable presence on Detroit's East Side. Today, Mt. Olivet is the largest cemetery in Detroit, consisting of more than 300 acres of carefully tended lawns and gardens that create a peaceful oasis in the city on both sides of Outer Drive.
Mt. Olivet is an inspirational place in the truest sense of a traditional cemetery. Dozens of private family mausoleums can be seen throughout the grounds, interspersed with towering oaks and maples. Many of them honor multiple generations of Detroit area families from Wayne, Oakland and Macomb counties. Visitors to Mt. Olivet will also see an impressive assortment of individual memorials erected from the 19th Century through the present day. But Mt. Olivet's role reaches beyond that of being a dignified final resting place. We have hosted numerous community gatherings including memorial events in honor of 9/11, marathons to support the Make a Wish Foundation, a Christmas Tree lighting ceremony and others.
The expansive and beautiful landscape epitomizes the grace and dignity found at all of our cemeteries. That's why Mt. Olivet Cemetery remains a compassionate final resting place and will be so for many more generations to come.
Contact us at (313) 365-5650 for more information.
Location
17100 Van Dyke
Detroit, MI 48234-3975
(313) 365-5650
Directions
Grounds map (PDF)
Cemetery Gates
Daylight Savings Time (Summer) 7 a.m.– 6 p.m.,
Daily Standard Time (Winter) 7 a.m.– 5 p.m., Daily
Office Hours
9 a.m.– 4:30 p.m., Monday–Friday
9 a.m.– 4 p.m., Saturday
CLOSED, Sundays and Holidays
Call us at (313) 365-5650 or email sunriserun@mtelliott.com to order your FREE photos from the run.